Someone you should Get to Know… Parishioner Dee Staub
Dee, a parishioner at St. Elizabeth Seton for the past five years submitted her poem which graces Fr. Tom Suss's side-bar story in this issue. Titled, "The Ultimate Gift of Love", Dee's poem speaks rather splendidly about priests and deacons. We thank her for her submission.
Dee, who has lived in the Sun City West area for 29 years, originally came from Livonia, Michigan. With her husband Larry (who now rests in eternal life), they raised eight children. Her wonderful family has now grown to 18 grandchildren and 26 great-grandchildren. During their life together in Michigan, Dee worked as an ER attendant in a Southfield, Michigan, hospital on the midnight shift. After a few years, she landed a job for Ford Motor Company where she held many different positions. Dee was also into journalism, serving as an editor of the monthly newsletter of the Livonia Elks Club, during the time when women were not allowed membership.
As a cradle Catholic Dee says that she has visited several Catholic churches seeking to find priests, deacons and parishioners that make her feel excited when it is time for Mass. She has now found a home with Jesus at St. Elizabeth Seton.
Next time you see Dee at Mass or around the parish, do give her a SES family welcome!
Attention Snowbirds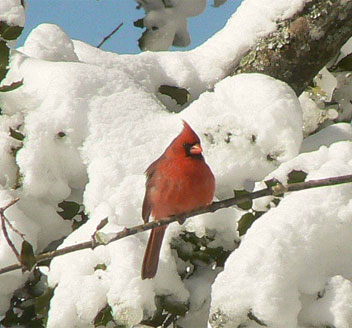 Want to receive the Family Seton when your back home? Simply give us your email address so we can send you a link to future issues. At the bottom of this article there is a comment area. Give us your name, email address, and permission to send you our newsletter, and you are all set.
Deacon Craig Reaktenwalt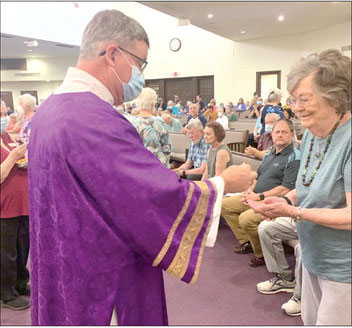 Deacon Craig Reaktenwalt presents bread at the Ash Wednesday mass at Sun City's St. Elizabeth Ann Seton Catholic Church. [Brent Ruffner/Independent Newsmedia]
Used with Permission: Phoenix Independent.
Our Deacons having a bit of Fun and Fellowship on St. Patrick's Day
Irish or not, it was a great day to get together and enjoy past memories and wishes of getting one of these special cars, or motorcycles, that were up on the auction block at the 2022 Mecum Auction. We all enjoyed the exercise, and being together on a wonderful warm day in Glendale, at the State Farm Stadium. Pictured from left: Deacon Craig, Deacon Tom, Deacon Jim, Deacon Mike Woiwode, (friend of Deacon Jeff), Deacon Jeff, and Deacon Sal.
Continuing Parish Bible Studies
SESCC has been offering a series of Bible studies; each class meets on Tuesday mornings and is eight to ten weeks in length. On March 22nd the study of First Corinthians concluded with a delicious celebratory potluck brunch. Most of the 30 or so attendees were present to enjoy the time together. Up next, beginning April 26,2022, another Ascension Press series will be offered, "Unlocking the Mystery of the Bible." This is a quick trip through salvation history based on a longer study, the Bible Timeline.
For more information or to sign up contact Deacon Jeff Arner at: 623- 866-5221.