St. Francis of Assisi Annual Pet Blessing
On Saturday, October 2th, St. Elizabeth Seton celebrated the Feast Day of St. Francis of Assisi by having their traditional blessing of animals. St. Francis is considered the patron saint of animals and environment because of his devotion to God and his expressed love of all of God's creation. While Deacon Craig did not fill an Ark of every kind animal, he did bless a variety of loved pets. This year the prayer service was developed by Music and Liturgy director Steve Raml, and presided by Deacon Craig Reaktenwalt. The service ended with a special blessing, and the receiving of a medal of St. Francis.
Thank You Fr. Gary
St. Elizabeth Seton was blessed to have Fr. Gary Norman fill-in for Fr. Killian our pastor, while he was abroad visiting his family in Ireland and England. Fr. Gary is pictured at the Knights of Columbus Christmas party with Jan Consolino, who volunteers for the parish office.
Who are those men from the East?
They came to Bethlehem seeking the King to present their gifts of Gold, Frankincense, and Myrrh. These wise men made an appearance at St. Elizabeth Seton Catholic Church on January 5, 2022. during the Religious Education Children's Epiphany Mass. Traveling between 1,000 and 6,000 miles each to visit the Christ child, the travelers from afar stayed just long enough to explain about their journey before heading back to their home countries.
St. Vincent dePaul Celebrates Epiphany
Members of our SVdP Society Vincentian brothers and sisters held their Annual Epiphany Party on January 6, 2022. The party, in addition to great food and refreshments, featured members of our parish choir in concert, and our pastor Fr. Kilian who told the group about his life and a few unusual facts of his early years before receiving the call to priesthood. Games and a wine auction concluded the event. All had an enjoyable and interesting time. We thank these workers who do so much for those in need.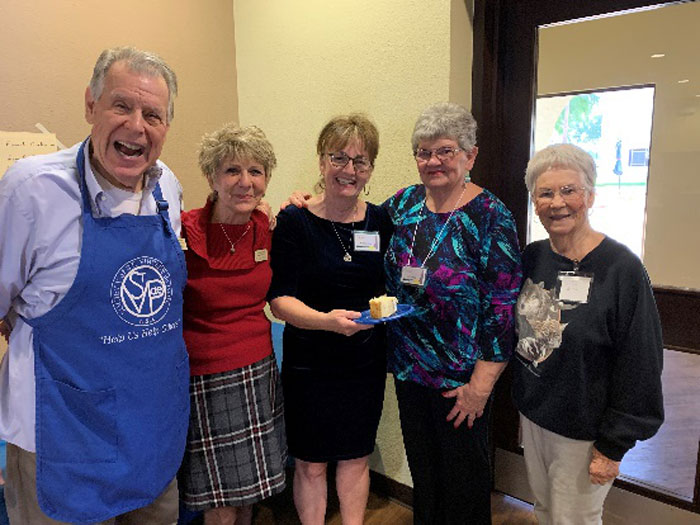 (Above) Some of the committee members that made this event possible are from right: Gary Harmon, Denise Steffen, Tina Prosenick, Linda Solvason, and Shirley Wirth.
(Above) Choir singers who made this event so special were: Barb Brown, Annette & Jim McConnell, Rich Miller, Steve Muller, Sandy Gordon, and Mary Low on piano.