Pictured are photos of the church in Christmas 2022. While Jane always does a lovely decorating of our Sacristy, this year the side rails were also decorated with bows and lights, and ribbon was added to the trees as well. What a nice additional welcome for our visitors this year.
Our business manager Joseph also had a hand at decorating as seen in center of our courtyard entrance. The creche is always a welcoming sign to visitors, and this year's was equally inviting.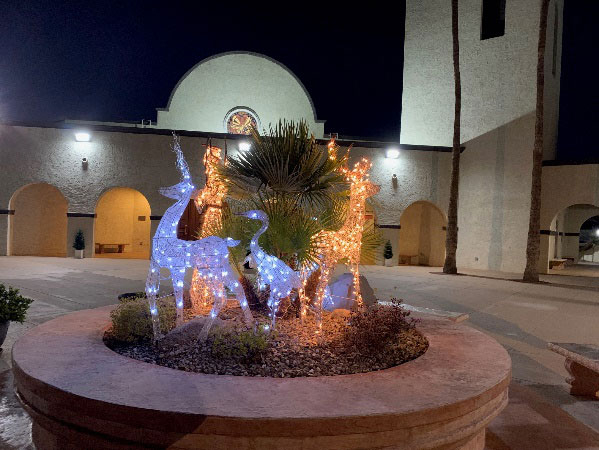 FIRST COAT DRIVE…
First Coat Drive was a huge Success. Thanks to our parishioners 17 boxes of coats, hats, gloves and other assorted clothing was collected. It was such a fun event, that we are hoping to do "January Jeans, September Socks and whatever else she can come up with!
THANKSGIVING AT SANTA TERESITA…
We hope all enjoyed your Thanksgiving as it looks like Santa Teresita had a wonderful warm meal to share also on beautifully decorated tables. Mike Ward and Roz Shafer co-chair being lead at Santa Teresita. Thank you both for heading up this wonderful Ministry to care for so many neighbors! A huge thank you to all of our members also that took the time out of their day to help feed the neighbors. We had 76 ate in and 125 to go. For a total and new record of 201. Mike noticed there were no more personal care bags to give out and so with less than a week before Thanksgiving, he and his wife, Sheri, put together 25 bags so that there would be some for the "Neighbors in Need!"
TURKEY TUESDAY AT BASHAS…
"We want to send a huge thank you to all who volunteered to help at Turkey Tuesday at Bashas. We racked up 49 service hours the day of the event." We had one of our most successful events ever with 204 Turkeys collected, $1322 in cash donations and 28 bags of food donated. Our neighbors who participated were so grateful. 23 families received turkeys, 27 families received $50 Basha's gift cards. We donated 22- $25 gift cards to St Anthony of Padua in Wickenburg. We thank our Bashas partners who supported us during the event and our generous parishioners and SVDP members, who came to the store and donated turkeys and groceries. .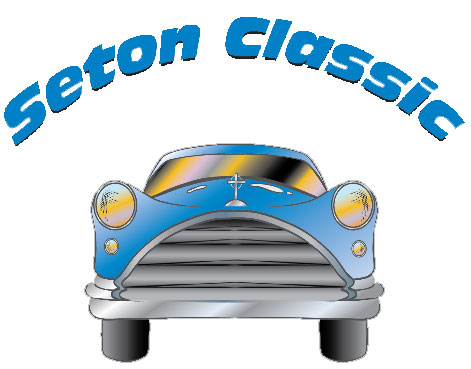 The First Seton Classic car show cruise-in took place on Feb.18, 2023. At the time of this writing the show was several weeks away. The committee is planning for 100 cars, serving free coffee and donuts to the car owners. A donation box for our youth activities, and a non-perishable donation for SVdP were the only requests. Door prizes for the car owners were given. Those that attended the show were able to purchase coffee and donuts for $1 and partake in the 50/50 raffle. The next Car Show cruise -in is scheduled for September 16, 2023.
Ministry Reflection Day Enjoyed by All
"You don't know how you are affecting others," said Sr. Mary Beverley when speaking to the ministers at the Day of Reflection. The Minister Reflection Day was presented to all the ministers of the SES parish on Saturday, January 28, 2023. The day which was developed and directed by Steve Raml, director of Music & Liturgy, began with Mass at 8:00 AM followed by a light breakfast, and the presentation by Steve Raml, and Sr. Mary Beverley. From the presentation, small group discussion ensued. "We think of ourselves as ordinary people but we really are extraordinary," stated Barbara Brown after hearing the presentation. Fr. Kilian Mc Caffrey, pastor of SES, closed the day with a special blessing developed just for the ministers. Many ministers spoke highly about the day and its presentations.